ClifRock's Panel Masonry™ technology is a dramatic development in the construction of outdoor living spaces. This technology combines the traditional appearance of stone with a simplified installation method. ClifRock's method is faster and easier while removing the complexities and hassles of traditional masonry methods and materials.
Designed using select stones by a 20-year stone mason, our precast panels mirror the look and feel of their natural counterpart. Panels are precast using a fiber-reinforced, polymeric concrete mix design. This technology enables the homeowner to choose their stone profile and color palette to fit the natural landscape of their backyard. Homeowners can now design projects that are not possible with traditional materials and methods. With our precast panels, we can reduce material waste and environmental impact, while delivering the highest quality vertical masonry structures.
The panel material is lighter weight and does not require a footing. Panel materials are 1/10th of the weight of comparable stone materials and 2/3rds the weight of the standard concrete mix. This allows our lighter weight material to be set on any hard surface, without the need for any additional footing, saving labor, time, and cost. The lighter weight material also reduces settling and concern with ground movement.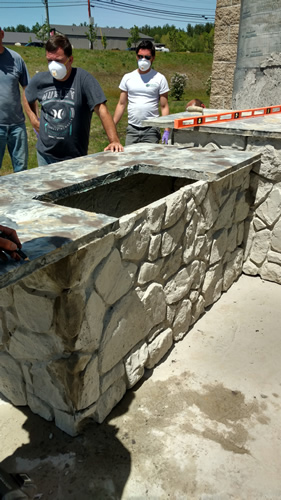 Adding counter
Installing bar top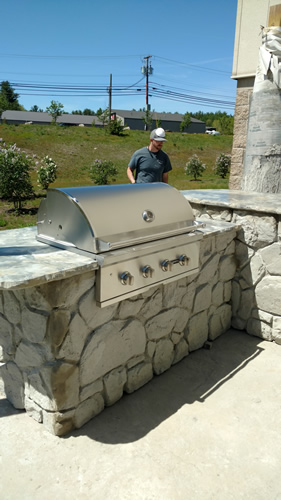 installing grill
*slideshow images and other content is used from the ClifRock Website, and may not reflect our design or work.